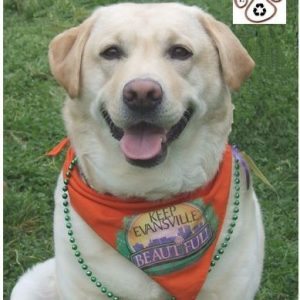 EVIE now is 13-years-old , a Yellow Labrador Retriever who is the real character from her books. EVIE was born in Canada and her official Canadian Kennel Club registered name is Asklar Corhampton's Clean Sweep, but friends call her EVIE SUE. EVIE's name is a bacronym for Every Volunteer Is Essential to keep the Earth beautiful and protect the environment. The SUE stands for Shape Up Evansville. EVIE became the mascot for Keep Evansville Beautiful in 2007 after her human mom wrote Retrieving With EVIE which promotes anti-littering. EVIE's second book, EVIE Goes Clean And Green shares how EVIE reduces her carbon pawprint on Earth in just one day. She is an Honorary Vanderburgh County Deputy Sheriff who has shared her environmental message with over 70,000 children and adults at presentations in Indiana, Tennessee, Florida, and Washington, D.C.
EVIE visits area classrooms and other community events to promote anti-litter with the help of Keep Evansville Beautiful staff and her human dad. Her mom goes along when she is not teaching in her classroom. EVIE's program focuses on the 4 R's by encouraging humans to retrieve litter, reduce their waste, reuse items, and recycle everything they can in order to protect the Earth. EVIE leaves pawprints on people's hearts and has changed the way children and their families react towards litter and recycling.
EVIE has been honored by USA Today as one of five dogs chosen to be their nominee for Hero of the year for 2010. She has also been honored by the Red Cross as Hero and her program won a Leadership of Evansville award. She won first place in the nation awards from Keep America Beautiful for her anti-litter education work in 2008 and for her PBS Kids/Go web-game in 2010. The Indiana General Assembly passed House Resolution 51 in 2009 to honor EVIE's work and Governor Mitch Daniels also congratulated EVIE for her efforts to make Indiana a better place. EVIE was featured at the Environmental Kid's Event in 2011 at Dollywood Theme Parks and returned to the Gatlinburg area in 2014 for a summer tour and in 2015 for the Wears Valley Fest. She was also honored to be recognized in American Dog and AKC Family Dog magazines as well as numerous local publications. EVIE was presented with the 2011 Evansville Sustainability Award from the Mayor of Evansville and the local Environmental Agency in addition to numerous other awards within the community. EVIE recently shared her mission with attendees at the Keep Tennessee Beautiful State Conference in September 2015.
EVIE lives at Labrador Lane with her mom, dad, and brother Biscuit (a Yellow Labrador who was rescued from the local animal shelter). She loves to run around her three acres which is a Backyard Wildlife Habitat. In her spare time, EVIE works as Team 02 Indiana for the Emma Zen Foundation (Anaheim, California) which provides Pet Oxygen Masks for fire departments. EVIE has raised money to place 49 Pet Oxygen Masks kits on fire trucks in Vanderburgh, Warrick and Posey counties and is working on her next county. She also loves visiting with her friends on Facebook (https://www.facebook.com/evie.sue.5) or tweet with EVIE via (EVIE @Lablady13). You can also visit with EVIE via her webpage: http://www.eviethelitterdog.com .
Big Hugs Evie, we love you here at Asklar. Keep up your wonderful work.
Another Labrador HAS JOINED THE HARPER FAMILY IN 2016 , HER NAME IS VANDY LEE , she will also be trained to join and help EVIE SUE, we wish her the best, another great Asklar Labrador. Vandy Lee is out helping Evie Sue now and doing a great job, we are so proud of our girls.
With heavy hearts Evie Sue passed away August 22, 2020. She will forever be in our hearts, throughout her life she certainly did some amazing work to keep Evansville clean.